Copper Anodes
Tamra manufactures high purity copper anodes in different shapes and sizes for electrolytic copper plating. Nuggets and bar anodes are produced by a continuous casting process, while balls are produced by forging. After fabrication and sizing, the anodes are cleaned and washed so they are ready to use when they arrive.
Tamra provides two grades of copper to meet the needs of most plating. The oxygen content of oxygen free anodes is controlled to less than 10ppm to provide uniform dissolution in cyanide, pyrophosphate and fluoborate baths. Phosphorised copper anodes containing 0.04-0.06 percent phosphorus are required for acid copper solutions.
Nuggets are the most common form of copper anode. They are typically 1" in diameter by one-inch-long, but other sizes are available. Both OF and Phosphorus copper nuggets are available.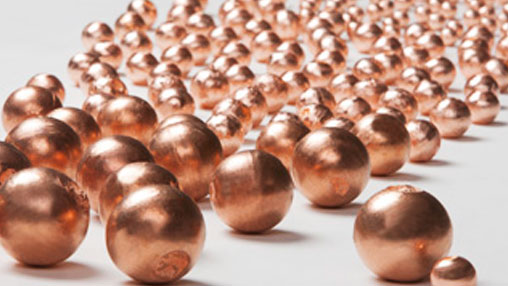 ---
Phosphorus Copper Anode
(DHP Gr)
Tamra phosphorous copper anode with high quality plating properties, commences with supreme quality copper cathode melted with precision % of phosphorous under vigilant controlled conditions. Cast continuous rods are produced in inert atmosphere without any scope of copper's contact with air. Stage inspections are assured and monitored strictly during further process. Thus the oxygen free melt remains 0.04-0.06% consistently.
---
Oxygen-Free Copper Anode
(OF Gr)
Tamra oxygen-free copper anodes are manufactured precisely for electroplating. Its fine grain structure with high purity level and clean surface, easily dissolved The high purity level 99.99% min. with cast crystal structure results into free flowing materials.
---
Applications
Printed Circuit Boards
Rotogravure Printing Cylinders
ABS Plastic
Coinage
Copper Bonded Earthrod
Electric Connectors
Decoratives
Monogram
Power Distribution Equipments
Ammunitions
Automotive Wheels
---
Shapes
Balls (dia.)
15
25
Slugs (dia.)
8×15
12×8
14×10
25×25
8×20
12×10
14×20
25×30-40
12×10
Plates
25×10×L
100×10×L
152×19×L
175×15×L
60×12×L
100×15×L
152×15×L
200×10×L
80×12×L
100×20×L
158×12×L
200×12×L
80×15×L
130×19×L
170×15×L
200×20×L
All Dimensions; ask for other shapes and sizes.
Chemical Composition
| Element | Phos | OF |
| --- | --- | --- |
| Copper | 99.95% | 99.99% |
| Phosphorus | 0.05% | |
| Oxygen | | 10ppm |
| Iron | 8ppm | 10ppm |
| Sulphur | 11ppm | 10ppm |
| Lead | 6ppm | 1ppm |
| Antimony | 3ppm | 1ppm |
| Nickel | 1ppm | 1ppm |
| Arsenic | 1ppm | 0.1ppm |
| Tin | 1ppm | 1ppm |
| Zinc | 7ppm | 0.1ppm |